Our Services:
Highlighting What We Do
Strategy and Design:
The Look
Take a look at our work. Read what our clients say about us. We hit the mark. But more than that we have the talent and skills that have been groomed from years of experience and top notch design degrees from RISD and SCAD.
Web Site Development:
Behind The Screen
Most clients want to know that what we build works great. We do more than that though, we build clean, flexible and efficient code. Think of it this way, not every car runs at the same level- we make sure your coming on the track with at top rated preformance.
Content Management Systems:
webManager 7.0

Managing your own site can be as simple as securely login in, updating your information and publishing your edits. Or complex enough to process workflows and approvals. Either way, there is no need to wait for someone else to make the updates you can make now. Our customized open source solution will give you all the tools to put you in charge. Plus, you will not be overwhelmed with standard off the shelf systems that have too many options to filter through. Contact us for a demonstration.

e-Commerce:
Selling Online
Products, memberships, events and donations are just some of the reasons to get your online commerce solution up to speed.
Mobile Ready:
On The Go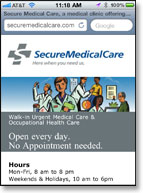 Get your content ready for the mobile world, the fastest growing market on the web. Better yet make sure your site is easy to read when users are on the go.
Blogs and Forums:
Speaking Out
Forums are not only for geeks anymore and blogs personalize your content. Learn how these communication strategies can help present the organization you want to be.
User Experience Testing:
Adjusting To Your Audience
Do you think you know your audience and their perception better than anybody? Maybe you do. Be sure and put your site to the test.
Social Media:
Buzz And Positioning
Everybody is doing it, right? Get your message in the right place and make your voice heard. Not all social media tools are for every client but we work with your organization to make sure you make the best of what you have to offer. Follow the hype and make it your own.









Email Marketing:
Direct To The Inbox

We can customize your email marketing aggregation, look, message and deployment in a variety of ways. Make an impact before your email gets deleted.
Flash Animations:
Action
Make a splash online and announce what you want your users to notice. Sometimes you need more than a simple image or a video presentation.
Search Engine Optimization:
Making Sure Your Audience Finds You
Every site we build is optimized through industry standard practices so you get placed where your users are looking. Content is critical but we also ensure that your code is right on target. Everything from the title bar, image alternate text, styles and hierarchy are developed in a way to maximize your results.
Site Analytics:
Measuring Your Statistics

What better way to keep track of every click and data point than through the top technology on the web. View your stats as often as you would like and make real time changes to your site in order to enhance your user experience.
Copy Writing:
Getting Your Message Right
Want to make a hit with your audience? Showcase your organization like the pros that you are? Make sure you tell them your captivating story and not bore them to sleep. Your message is key.